Just When I Thought I Was Out...
Thursday, August 10, 2006 | 3:25 pm
Somehow last night I got talked into joining an obseqiously long roadtrip today. Destination:
GenCon
. Gaming geek heaven, and place of few showers.
This is the first time I have visited GenCon in a non-working capacity, and my first time doing GenCon in Indianapolis, so it will be a somewhat different perspective. The real reason is to catch up with some of the old colleagues from The Company, of which there should be 6 or 7 there. Twice as many hours of driving than actually being at the Con though. Daunting.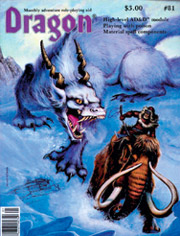 Its funny to reflect on my early gaming days back in Oz, when I was a fledgling D&D player (back when you had lots of dice), and to page through the well-read near-mutilated pages of
Dragon magazines
and see the RPG association's (what were they called again?) inserts for GenCon. With no equivalent in Australia, I thought it was some sort of gaming mecca, and as mythically fantastical as the games I played. Nothing like getting old and working in an industry to blow the gloss off it!
But this trip may help me rediscover a little of that, even though the stars-in-my-eyes kid-gamer has long since dimmed, it will be a fun trip for a fun trips sake. And there's beers with mates, so there's no real downside here.
See you when we get back.