A Tale of Two Themes
Thursday, September 08, 2005 | 1:00 pm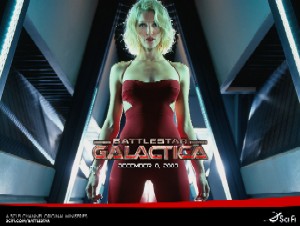 Picked up the Battlestar Galactica Season One soundtrack this week, and it finally resolved a question the wife and I had been pondering (not very hard admittedly) since Season 2 began — why the change of opening titles theme?

As it turns out, it wasn't a change, but a return to the original UK Season One theme. The CD contains both. (I'm sure that Marcus and 50% of you reading this could have told me that.) In a surprise upset to the way these arguments usually go, we both much prefer the haunting US version.
Ok, so it doesn't actually answer my question. Why the change? Can anyone enlighten us? Often distributors make strange choices for their regional markets. Movie titles used to occasionally be changed for Australian release back in the day before internet and vapid half-hour entertainment "news" shows made the brand names universal. For example, "Airplane" was released as "Flying High" in Australia. Made for a few confusing movie chats when I came to these shores.
Back on BSG though, still excellent viewing, but I do fear the greater quantity of episodes for this season will hurt the show. Hard to keep up the quality week in week out, and it doesn't take much to lose a sci-fi audience these days (especially a Friday night sci-fi audience). The wife and I both hope to be wrong on this, but Rescue Me is proving to be more compulsive viewing lately as far as the tiny handful of shows we actually try to keep up with...
On a related note, I have grown to like the American version of The Office also. The British version still gets the props for concept and execution and a hall-of-fame major character, but the US "replicant" is also quite good, keeping the subtlety (often the first victim of the trip across the pond) and a effective duplication of the primary characters. No matter which you watch, it is a show that takes you a couple of viewings to warm to, primarily because it's hard to work out which character to barrack for, and then come to grips with the fact that he or she rarely comes out ahead. But well worth it, and a small episode count means quality every show. Great stuff from both sides of the northern hemisphere.